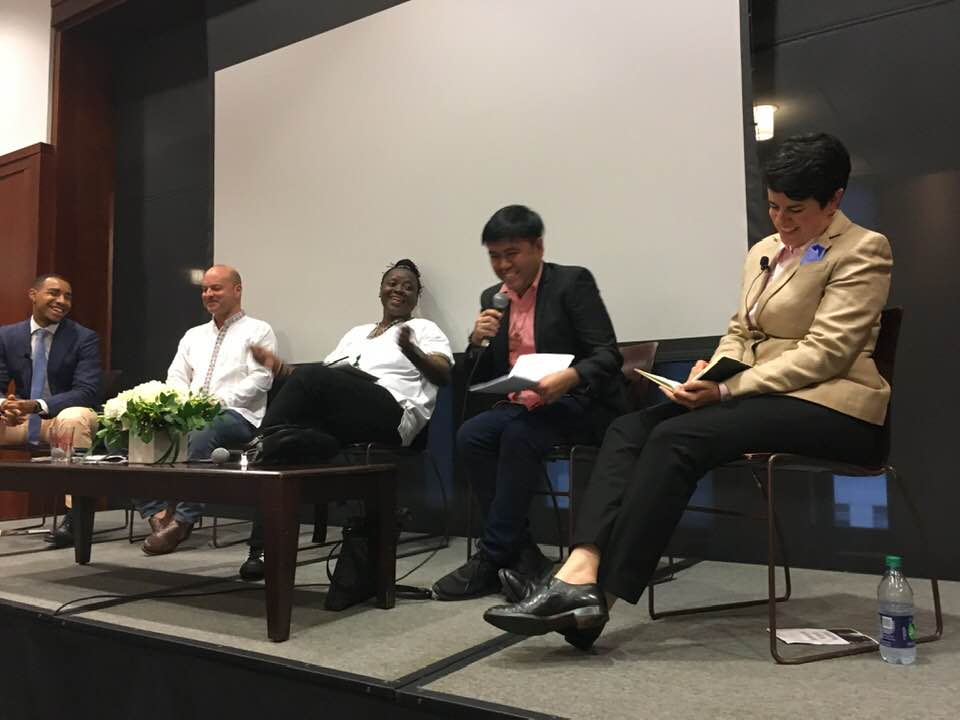 Argel Tuason, the Benedictine Oblate Coordinator for the Philippines, recently spoke as a panelist at the Fordham University in New York to share his journey and experience as a gay contemplative and activist working for welcome, affirmation and justice for LGBTQ Catholics. He co-founded the community Rainbow Catholics Philippines.
Held at the Lincoln Center Campus on June 26, 2019 and co-presented by the Fordham University Theology Department and the Church of Saint Francis Xavier, the event was entitled "LGBTQ+ Catholic Activism: A Global Conversation." The conversation was moderated by Craig Ford, Ph.D., post-doctoral teaching fellow in Fordham's Department of Theology, and Jamie Manson, editor and writer for the National Catholic Reporter.
Argel shared with around 200 participants, mostly parishioners of the Church of Saint Francis Xavier, his spiritual journey to self-acceptance and affirmation as both gay and Catholic. He even found his Damascus-like encounter with the all-loving and gender-affirming God a very mystical experience so much so that if he is to write a book about his story he quipped that he would entitle it "Coming Out Within: A Gay Contemplative Experience."
A man and a woman, a couple, from the audience who happened to be contemplatives themselves, being practitioners of Centering Prayer, approached Argel during cocktails that followed the event and offered words of encouragement and support for the ministry he is doing for the Catholic Church. They also noticed his non-bitterness towards the Church during his sharing of his experience of non-acceptance from some members of the Church. Argel admitted to them that there was a point in time when he thought of leaving the Church because of oppressive elements and judgmental attitude in its teaching about homosexuality. He attributed however his recovery from the Church's spiritual abuse to the healing and transformative effect of a contemplative practice coupled with the experience of being loved, accepted, affirmed and supported by his local meditation community as well as by the global community of WCCM, which is truly catholic. In the end, because of the couple's curiosity about Christian Meditation, Argel invited them to the monthly online Oblate Cell Meeting hosted by the Filipino community.
For more information about the said event at the Fordham University, you may read articles written about it using these links: 
https://www.ncronline.org/news/people/activists-examine-church-impact-lgbtq-rights-movements-around-world

https://news.fordham.edu/university-news/in-moving-testimony-gay-catholics-reiterate-their-faith-in-the-church/
He was able to begin and end the sessions with contemplative silence such as practicing breath prayer. He was also able to introduce and let the participants experience the practice of Christian Meditation. Participants came from countries such as Slovakia, USA, Chile, Germany, Australia and the Philippines.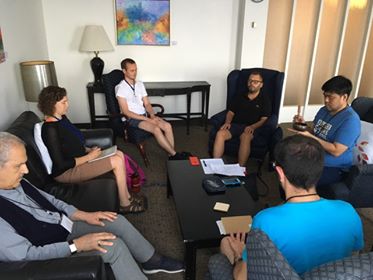 Little by little, it is becoming clearer to Argel the ministry God has been calling and preparing him to do. That is to offer to the wider Church community "the gift of his own being" as a homosexual and as being part of the LGBTQ movement around the world working for welcome, affirmation and justice for all. As the Synod Fathers mentioned: "Homosexual persons have gifts and qualities that they can offer to Christian communities: are we capable of welcoming these people while guaranteeing them a fraternal space in our communities?"* And conversely, Argel would like to offer his contemplative experience, presence and practices to his fellow LGBTQ Catholics and activists.
Argel senses his call to a kind of a bridge builder between the wider Catholic Church and its many estranged, alienated and disillusioned LGBTQ members who are planning to leave or who have left the Church as well as those who chose to stay as a prophetic witness despite discrimination and non-acceptance.
For those interested and would like to know more or support the contemplative ministry for and with LGBTQ Catholics and seekers, you may get in touch with Argel Tuason via his email address argel.tuason@gmail.com or through his WhatsApp number +639235093463.
*Synod on the Family: Relatio post disceptationem of the Reporter General, Cardinal Peter Erdo – 13 October 2015, Article No. 50