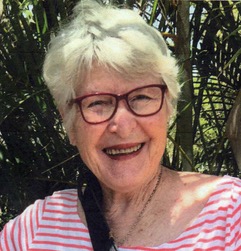 Margaret Stone (1946 – 2019) as with all of us have many descriptors:- daughter, sister, nurse, wife, mother, grandmother, but one that she wore well in her later life was that of a sincere and committed oblate.  Margaret made her Final Oblation in Brisbane, Australia in 2011. 

Her presence at cell days contributed not only to an exploration of John Main's writing and Benedictine spirituality but the warmth of this unpretentious soul was felt and valued by all.  And we thank Margaret for just being Margaret. 
Life has many vicissitudes one has to deal with and Margaret had her share.  However, when life challenges us we, in turn, have to confront our challenges.  This Margaret did, when her vision was partially lost it obviously made reading difficult so she looked for an electronic alternative for the Office and other Benedictine stables.  Similarly, not being able to drive to cell days wasn't going to stop her either, of course, she looked for and found an alternative.
The usual cliches like 'We will miss her' truly fall short of the lived and shared experiences of our community because we have known a person who was a genuine and generous daughter of Benedict and John Main.

Brisbane CellBrisbane, Australia