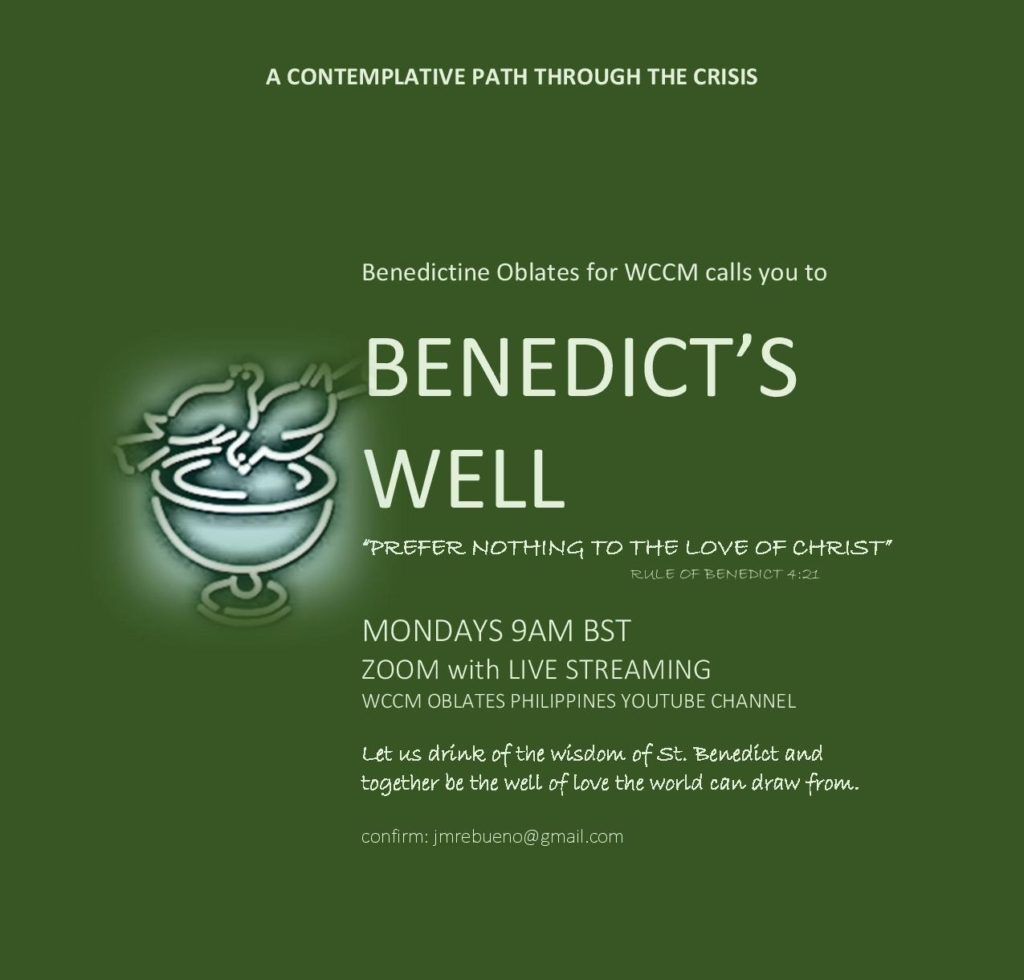 Gilly Withers writes:….
Stefan Reynolds was the speaker at the Benedict's Well Zoom meeting on Monday 27th July. His topic was : The Rule of St Benedict on Relationships: Living the Monastic Archetype in the Home & Family. If you did not see it, it is available on YouTube. The link is :https://www.youtube.com/watch?v=5Ja_ipg3q-8
In his talk he referred to the writing of Raimundo Pannikar. He summarised some of the teaching and has kindly made his notes available for distribution. I am attaching to this email the notes taken by Stefan when reading Chapter One of Raimundo Panikkar's book, Blessed Simplicity: The Monk as Universal Archetype.
Raimundo Panikkar 'The Monastic Archetype', in Blessed Simplicity, 1982. pp. 7-16
"To speak of 'the archetype of the monk in everyone' assumes there is an aspect of what it is to be human that is, in some way, modelled by the monk or nun… This is not to say (as has been said at times in history and in religions both East and West) that the monk or nun is the real prototype for human life. No, the monk or nun is only one way to realise what it is to be human, and real monks may do this with greater or lesser success. Yet it is an aspect of being human that is very important and often forgotten among all the other business of life.
What then is this monastic archetype? Here we are faced immediately with a polarity: On the one hand monasticism is something special, seemingly difficult, even strange in the eyes of the world, with tinges of social and cultural non-conformity; on the other hand, it is something so very much human, that is can be claimed ultimately to be the vocation of every human being, what everybody should be or is called upon to be in some way or other, sooner or later.
The monastic archetype is a dimension of human life. Such is the richness and complexity of human nature that this can never be the whole story, but it is an important one which some are called to witness to more completely in their lives. To be a husband, a wife, a parent, a worker, an artist, these are all archetypes of what is it to be human. But there is a little bit of the monk in everyone also. Every human being has a monastic dimension that each of us must realise in different ways.
My hypothesis is that the archetype of which the monk or the nun are an expression, corresponds to one dimension of 'what it is to be human', so that every human being has potentially the possibility of realising this dimension. Monkhood is a dimension that has to be integrated with the other dimensions of human life in order to fulfil human nature. Man does not live on monastic life alone… Not everyone can or should enter a monastery, but everybody has a monastic dimension that ought to be cultivated. Monkhood is a constituent, a part, a dimension of what it is to be human, it is one archetype.
Now we must address what is this aspect of being human that is expressed in the monk or nun? One does not become a monk in order to do something or even to acquire anything, not even virtue. It is about learning to be, to be who we are, learning to accept ourselves with our limitations but also our longings. The monk does not become a monk just because of a desire. We will be reminded on the path, again and again, that we must let go of all desires. But it is an aspiration, an urge. It is not because one wills it that one becomes a monk. We must let go of self-will. But the monk is compelled, as it were, by an experience that can only be expressed by giving their life.
What is this experience that impels the monastic response? It is an experience of the goal of life, on the one hand, already there, but it is also an experience of the absence of that goal, of not having reached it, which impels us. A sense of coming home, and yet of being on a journey, of having arrived and yet of being on the way.
To what does the monastic archetype point and what does it express? For me it represents the search for the centre that is both the source and goal of life. In as much as we try to unify our lives around the centre of who we are, all of us have something of the monk in us. This centre has no identity – we cannot say it is male, female, religious or lay, young or old, eastern or western, Christian or say Buddhist. This centre, by virtue of being a centre, is immanent to the human being; but at the same time; by virtue of being as yet unattained, it is what impels us ever beyond what we know of ourselves.